![CDATA[YII-BLOCK-HEAD]]>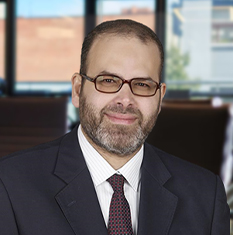 Mr Magdy Mohamed Amin Abdel-Mayjid
Senior Legal Consultant
Biography
Areas of Specialization
Commercial Law
Civil Law
Arbitration
Contract Management
Qualifications
Bachelor's degree in Law from Cairo University
Diploma in International Arbitration Law and Contract Management with a specialty in Intellectual Property Protection.
Experience
Mr Magdy has a long experience in legal work in Egypt, where he started practicing the profession from 1988, at the office of Professor Abdel Moneim El-Sharkawy (Professor in Legal Procedures at Cairo University) and also worked in the office of lawyer Mohamed Kamal Abdel Aziz, the office of Al Ibrashi Darmarkar and the office of lawyer Maatouk Bassiouni.
Professor Magdi worked at Global Law Firm and Legal Consultations in Dubai in 2008 as well as at Abdulrahman al sherif law firm and Hamdan Al Harmi and associates. He then moved to work for the office of lawyer Mubarak Al-Sulaiti in the State of Qatar as a lawyer and director of the office until 2015.
Since then, he has joined Prestige Advocates and legal consultancies as Senior legal consultant specializing in civil, commercial, arbitration and criminal law.
Top